Blair's Story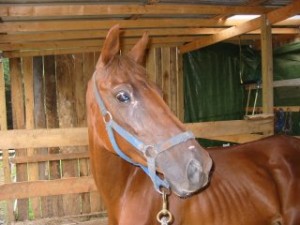 (for updated photo's of Blair and Ripley click link at the end of the story)
Blair's Story
by Shannon Moore
Blair is a very pretty copper penny chestnut mare, who arrived at Roanoke Valley Horse Rescue Inc. under very tragic circumstances. On Saturday, July 5th, 2003, she was being hauled to a new location in an unsafe trailer.  Holes in the trailer floor were "over-looked" by the transporter, and Blair managed to get a hoof through the floor boards. As a result, her left hind leg was dragged against the road for an unknown number of miles. Fortunately, a policeman stopped the driver, and Blair was able to escape. She literally broke out of the trailer once it was stopped.  Dr. Tanya Hatchett of Clover Creek Animal Health was called to the scene to assess Blair's injuries. Her right hind leg suffered comparatively minor damage, with a skinned area on her pastern joint.  Her left hind leg, however, was not as fortunate. The constant dragging of the front of her pastern abraded away the front of her pastern joint.  This quite literally burned away the lowest end of her cannon bone, and the highest end of her long pastern bone, called the P-1. See diagram below.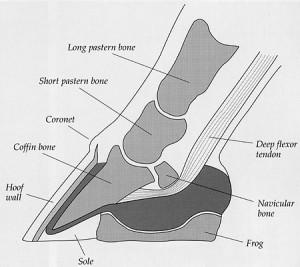 This injury left her with a hole in the front of her joint about the size of a tennis ball, with no stability left in the joint itself.  Had Blair put her hoof down through the hole allowing her sole, or bottom of her hoof, to drag along the road, she would have had no lower limb left.  This would have meant certain euthanasia.
To veiw photos of Blair's injuries Click Here. WARNING: The images are graphic abuse photos.
Dr. Hatchett called us as she left the scene of the incident, stating that Blair's chances for recovery were slim. But there was something about this little mare that asked for that second chance.  Arrangements were made, and she arrived at RVHR Inc.'s facility on the evening of July 7th. She was thirsty, very thin, scared, and in a great deal of pain from both hind legs.  Antibiotic treatment immediately began followed by gradual cooling of her body. Not only was she in pain from an easily preventable grievous injury, she was 250 to 300 pounds underweight as well.
On the first bandage change and cold hosing, the full extent of her injuries became apparent to us. The damage was shocking to us all, and an amazing lesson in living, working anatomy. Knowing that this deeply traumatic injury is unbearably painful — think of a broken bone with the ends grinding together with exposed nerve endings — Blair still offered little resistance to having her wounds treated. Dr. Hatchett was truly amazed at her progress during her first visit with her at RVHR Inc. when she took x-rays and formed a splint to support the remainder of the joint. Blair was able to quickly regenerate flesh to cover the exposed bones. Thankfully, we have able to prevent infection to tissue and bone, and in doing so greatly improve her chance for recovery.  She has proved to be a tough mare, and continues to be highly motivated to heal and remain with us for her rehabilitation.
Time will tell how Blair's recovery will go. At the time of this writing, her prognosis is guarded, but looking better. She is in a splint, on an intensive treatment program, and taking antibiotic therapy. Her will to live is clearly evident as is her appetite!
The purpose of sharing this story with all of you is not to seek sympathy, but to again raise the awareness of horse owners as they trailer their animals during busy horse show seasons. This incident could have been easily prevented by properly performing trailer maintenance, and by doing a thorough check on the condition of the floor. Next time you need to move your horse, when you're checking your trailer for the usual things such as brakes and lights, please take an extra ten minutes to test the soundness of the floor.  Had this simple prevention measure been performed, Blair would never have had to deal with such pain, nor would her survival during the next 3 to 4 months have ever been in such serious doubt to start with.
Remember, check your trailer well several times a season. Have a list of veternarians and their phone numbers with you as you travel. Don't hesitate to call the police for further assistance. Carry on hand some basic medical supplies such as vet wrap, several sizes of gauze pads, extra stall bandages and quilts, duct tape, sterile saline solution, sharp knife or scissors, and an extra halter and lead rope. A fire extinguisher is a good idea as well. Your local fire department will assist you in choosing the right extinguisher to carry in your rig, as well as how to use it. While you are at the fire department, ask if an EMT can give you some tips and hints on how to wrap a limb in a pressure bandage.
Check back with RVHR Inc.  for updates on Blair. Donations of stall bandages, quilts, and polo wraps to help support her legs will be graciously accepted. Donations towards her medical expenses would be most welcome as well. Dr. Hatchett has generously donated her services, but we need to pay the cost of Blair's antibiotics, medical supplies, feed and hay.
Update – 08/04/03 – Blair's leg is healing well.  She is in a full cast in hopes that the bones in her leg will fuse together to give her support to stand. It is still unknown if she will be in pain once the bones do fuse.  At this time we are hoping for the best for her.
Thank You to those of you who have donated various products to help Blair in her recovery.
Update – 10/08/03 –  Blair's leg is healing well. She is out of her cast.  Her wound has almost covered over with new skin.   X-rays will show if the bones have fused together.   As of today she is making progress of putting her weight back on the injured leg.  She is doing physical therapy everyday with stretching of her leg.  A metal support cast has been made for her to help her support her body weight as she begins to add pounds to her very thin body.
Thanks to all who helped Blair during her incident this past July.  RVHR Inc. was surprised to find out on 3/1/04 that Blair will be delivering her foal very soon.  We hope that with good feed and supplements Blair and her foal will be fine.
She has recovered well from her trailer incident and is now able to hold her weight well on both back legs.  At this time she is not on any medications.
The Story Continues:
The Birth of Ripley Link to Blair & Ripley