*Medical Barn
Without your generosity the construction of the RVHR Inc. Medical Barn cannot continue.  We sincerely thank all who give and continue to support our cause
  Franklin Co. horse rescuers get their horse-pital Roanoke Valley Horse Rescue is realizing a long time goal: It now has a medical barn, though funding is still needed. By
Jarondakie Patrick
read more
Ponying up for new barn By Denise Allen Membreno –
Click Here
Now that the building is nearing completion we have composed a list of things we badly need.  If you wish to donate any of these items or know of someone who might be able to donate them please let us know.
Breakdown on Stall Mats:   36 mats (4×6) are needed for the six 12×12 stalls and an additional 36 (4×6) are needed for one 36×24 stall so,
Total Mats Needed – 72   *ONLINE Price from Tractor Supply $38.99 each or $2,807.28 before sales tax.
Electrical Supplies:  wire – switches – outlets – switch covers – outlet covers –
interior light fixtures – 
5 ceiling fans – 2 dusk to dawn lights
Plumbing Supplies:  hot water heater – PVC pipe to run water lines
Storage shelves for inside the feed and hay room
Used kitchen cabinet set to fit a 12×12 room
Twin bunk bed and dresser for bunkroom
If you have something you think would come in handy for the Medical Barn please let us know. We are sure we can use it.
  If you'd like to help, remember you can do so online via Give Direct, Just Give or Paypal.
PLEASE NOTE: Give Direct is the only online service that does 
not
charge RVHR Inc. a fee to accept your donations. We will receive 100% of your donated amount.

        We are very excited at just the thought of having one barn at our facility which can house sick and injured horses that so often come into our care.  Construction is under wayfor the 96′ x 36′ on site building which will include:
Six 12′ x 12′ stalls One 24′ x 36′ stall/Meeting Room – large enough for birthing of foals, gelding of studs, etc. One 12′ x 12′ feed/ hay room One 12′ x 12′ medical supply storage area/kitchen One 12′ x 12′ wash/hoof soaking area/ferrier bay One 12′ x 12′ owners' overnight sleep area   One 12′ x 16′ office One  12′ x 8′ bathroom   
The barn will have hot and cold water running water, and heating and air conditioning for the horses that don't do well during certain times of year.  It will not only be used by our rescue horses, but it will also be available to local veterinarians who wish to use it for their equine patients.  This barn will give owners another option for medical care for their horses.  As a result maybe, just maybe, a horse will not need to be euthanized because a treatable injury could not be properly addressed.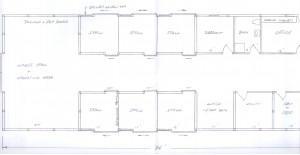 Keep checking back with us for progress photographs!
March 28th, 2012 –
We have a standing barn with stalls now!
February 15th, 2012 –
February 14th, 2012 –

February 13th, 2012 –

February 10th, 2012 –

February 9th, 2012 –

February 8th, 2012 –

February 7th, 2012 –

February 6th, 2012 –
The grading has been completed and today the next phase of building the barn has started.  We have contracted with Browns Contruction Bedford Va. to build 75% of the barn at a total cost of $69,890.00.
The crew arrived as scheduled first thing this morning.
December 30 thru January 3, 2012 –
The weather is cold out here today with a wind chill of 12 degrees. Well, we do have a heart and told the guys it's too cold to work today.  After all, they spent all day Friday, Saturday and Sunday moving more and more dirt.
December 29, 2011 –
Great news! This morning Pat Muncy, President of RVHR Inc., was presented with a grant check for $80,000.00 from The Alexander McCausland Trust to help with the estimated costs of Phase 1 and 2 of the Medical Barn construction.  As the site grading work continues we are preparing to begin the selection process of a contractor.
December 17, 2011 – Day 3
As the rain and wet weather has finally given us a break from the mud, the work continues.  Bert, the machines' owner's dog,

 watches over the moving of ground from one end of the farm to the building site.
November 14, 2011 – Day 2
With a grant from the ASPCA of $4,000.00 this year we were able to hire two of our supporters who brought in their equipment to provide grading services for the site. As we watched them literally break ground that first day, we realized we were witnessing the beginnings of our dream come true, but more importantly, a grateful reality for those horses who will come to us for help.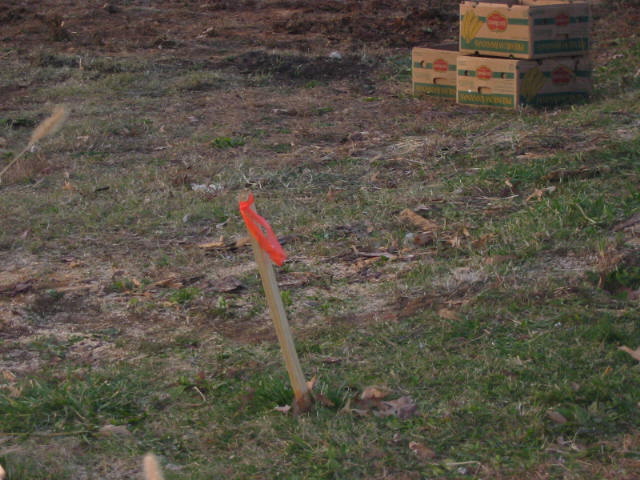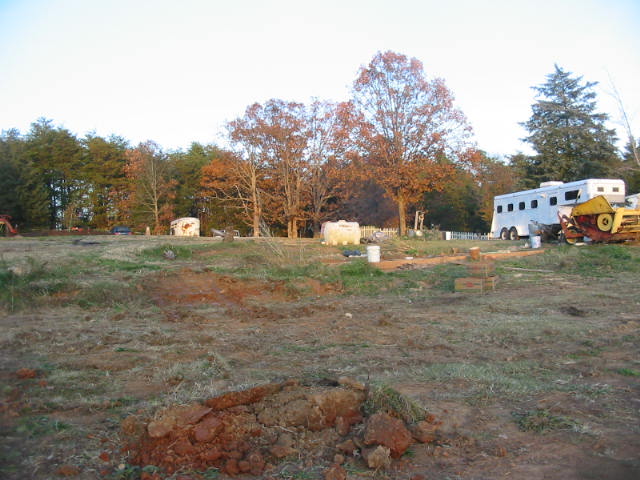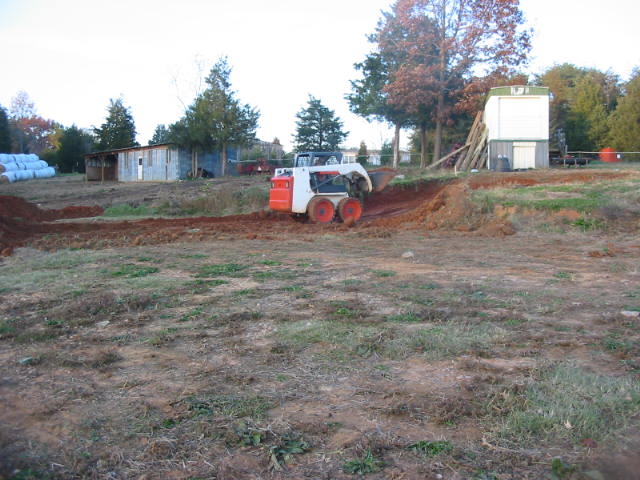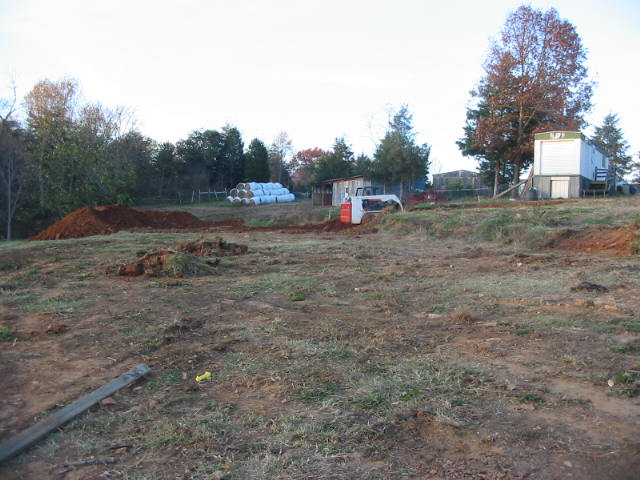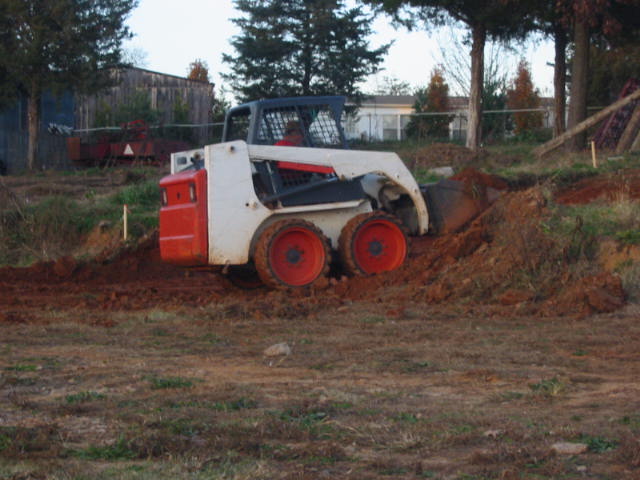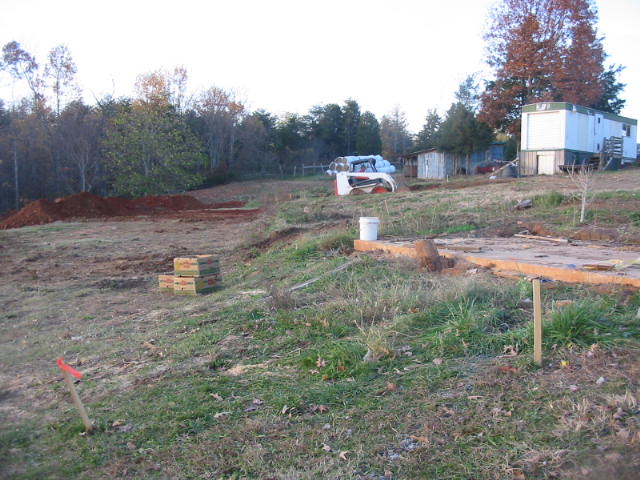 November 13, 2011 – Day 1
On Sunday, we began preparations for the new Medical Barn where we plan to house any horses in need of a warm and dry place to heal. Fencing was removed and the old building dismantled to ready the area. As we continue to work for toward this goal, we hope that with the finanical support of our community, fundraising efforts and grant awards that this much needed barn will be a reality by the first of January 2014.